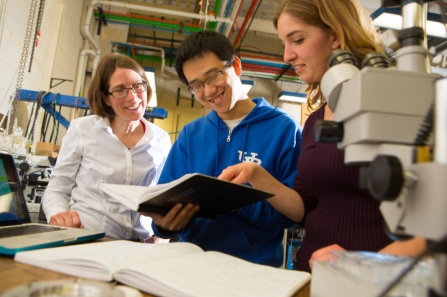 Graduate Student Application Assistance & Internships

Our graduated interns are invited to apply to Graduate Studies programs within our Center and to the graduate student internships listed below. This is a crucial step in your career and we are here to help. If there is anything the Center can do to help, please email us at This email address is being protected from spambots. You need JavaScript enabled to view it. . We are always happy to assist with Graduate School applications, letters of recommendation, proof reading or any other obstacle you might face along the way.
Graduate Programs
University at Buffalo Materials Design and Innovation (MDI) Graduate Program
Arizona State University (ASU) Graduate Studies
University of Wisconsin Milwaukee (UWM)
Hauptman-Woodward Medical Research Institute (HWI)
University of California, San Francisco (UCSF)
Roswell Park Cancer Institute (RPCI) Graduate Programs 
Cornell University Graduate School
Not interested in joining the Center? Try these 308 different graduate programs in STEM listed by the Institute for Broadening Participation.

Graduate Student Internships
A few of our partner institutions offer internship programs for current graduate students.

National Lab Internships
LCLS provides graduate students an opportunity to engage in research and development in their labs. This is a paid internship available to US citizens and nationals. Department of Energy, Science Graduate Student Research Program - SCGSR (LCLS Internships)
SACLA has created a Research Support Program for Graduate Students. They accept graduate students as trainees in SACLA laboratories and offer them hands-on experience in advanced research.They also allow them to participate in workshops and internal meetings and will provide opportunities to collaborate with SACLA staff scientists and researchers from around the world. The internship provides a stipend and can last for up to 1 year.
Industrial Internships
HarkerBio, a Buffalo-based company that focuses on providing scientific services to industry users, is currently looking for graduate student interns. This is a paid position that will provide you with hands-on experience in an industrial lab working on real projects sponsored by clients. For more information on this opportunity, please contact This email address is being protected from spambots. You need JavaScript enabled to view it.
If you require financial assistance in applying for the above mentioned programs, please contact  This email address is being protected from spambots. You need JavaScript enabled to view it. for more details.