Details

Thursday, 02 November 2017 11:02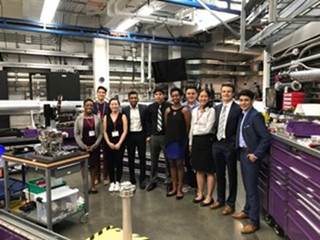 BioXFEL was well represented at the LCLS/SSRL Users' Meeting with Henry Chapman giving a plenary talk on Serial Femtosecond Crystallography: Past, Present, and Future featuring snippets from data as recent as 24 hours before the talk.  David Bushnell, moderated a session that included the LCLS young investigator award and Linda Horton, Director of the Department of Energy Basic Energy Sciences Materials Science and Engineering Division. A meeting of the joint LCLS and SSRL Users Executive Committee took place with Linda Horton, Petra Fromme, David Bushnell and Edward Snell present.
BioXFEL graduate student trainee, Joey Olmos, and Prof. George Phillips of Rice U accompanied a diverse set 8 undergrad interns to the meeting.  The interns presented the work they did at Rice this past summer at the poster session, attended lectures, and got a first hand tour of the LCLS!   For most, it was the first visit to the west coast and their first scientific conference!
Petra is a member of the LCLS Users Executive Committee, David and Eddie are members of the SSRL Users Executive Committee and David will be rotating onto the LCLS committee also this year. The committees provide an interface from users to direct management at LCLS and SSRL and encourage feedback about user experiences from big things to minor things that may make life at an experiment better. Updates on LCLS, LCLS-II, and aspects of SSRL that provide a gateway to LCLS were presented at the meeting.  The poster session was well attended. One of the three recipients of the Joe Wong Outstanding Poster Awards was Izumi Ishigami who worked closely with the BioXFEL team on her study of CO-bound cytochrome oxidase. Another award went to Ariana Peck from Stanford University on explaining diffuse scattering from protein crystals. This has attracted considerable interest from BioXFEL team members. The meeting was a challenge in some ways, Petra and some of the experimental team spending nights at the LCLS collecting data and then parts of the day at the meeting hearing about data.  We hope to see the results and the next users' meeting.