Details

Tuesday, 27 June 2017 13:30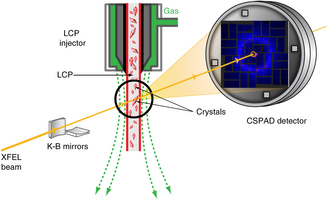 BioXFEL researchers in collaboration with others established a procedure for serial femtosecond crystallography (SFX) in lipidic cubic phase (LCP) for protein structure determination at X-ray free-electron lasers (XFELs). LCP-SFX uses the gel-like LCP as a matrix for growth and delivery of membrane protein microcrystals for crystallographic data collection.
LCP is a liquid-crystalline mesophase composed of lipids and water. It provides a membrane-mimicking environment that stabilizes membrane proteins and supports their crystallization. Here we describe detailed procedures for the preparation and characterization of microcrystals for LCP-SFX applications. The advantages of LCP-SFX over traditional crystallographic methods include the capability of collecting room-temperature high-resolution data with minimal effects of radiation damage from sub-10-μm crystals of membrane and soluble proteins that are difficult to crystallize, while eliminating the need for crystal harvesting and cryo-cooling. Compared with SFX methods for microcrystals in solution using liquid injectors, LCP-SFX reduces protein consumption by 2–3 orders of magnitude for data collection at currently available XFELs. The whole procedure typically takes 3–5 d, including the time required for the crystals to grow.